CALL IN YOUR ORDER FOR FAST AND CONVENIENT TAKE OUT SERVICE
Breakfast, Lunch or Dinner
Call your nearby Sawmill Restaurant to place your order and
we'll have everything hot and ready to go when you come to pick up.
Perfect for working lunches at the office, meetings, or a take home meal.
TAKE OUT ITEMS

Pint of Pork BBQ 10.49
Pint of Chicken Salad 8.99
Pint of any Menu Side item 4.49
Four-Piece Box of Chicken 6.99
Eight-Piece Box of Chicken 9.99
Twelve-Piece Box of Chicken 16.49
Dozen Hushpuppies 2.49
Half Dozen Hushpuppies 1.49
Gallon Tea 3.99
Half Gallon Tea 2.49
FAMILY MEAL DEAL
Pint of BBQ, six-piece chicken, two pints of sides and hushpuppies 23.99
(sides also available in half-pint sizes)
Please allow 20-30 minutes for preparation.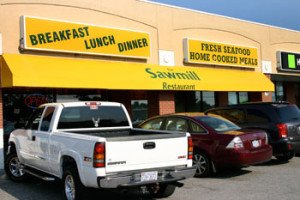 Monkey Junction
5611 Carolina Beach Road
Wilmington, NC 28412
(910) 350-6909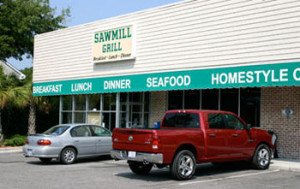 Hampstead
15919 U.S. 17
Hampstead, North Carolina
(910) 270-0056